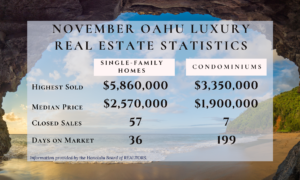 Single-Family Homes
The luxury home market continues to be very strong. There were 57 homes sold at or above $1.8M, which tied for the third highest since we started tracking data in 2017. This is almost twice as many sales compared to 2020 and an increase of 137% over 2019 sales. Median price increased as 14% over 2020, though it decreased slightly by 3.4% compared to2019. Price per square foot increased over both of the previous years; it was $918.92 this November.
Homes sold the in the shortest amount of time they've sold since January 2017, after an average of only 36 days on market. This is about 3.5 times faster than in 2020 and 3 times  faster than 2019. Homes sold for 101% of their asking price, on average, and 58% of them sold at or above asking price. This is a big proportion and significantly higher than 31% in 2020 and 21% in 2019.
Highest Sold Single-Family Home
Portlock, Hawaii Kai
5 bedrooms | 5.5 baths | 4,497 square feet living | 12,270 square feet land
Why this property is spectacular: This oceanfront home features hardwood floors, vaulted ceilings, and pocket doors that open to spectacular coastal views. The tropical flowers, palm trees, and covered lanai make for a perfect Hawaii outdoor living space.
Sold at: $5,860,000 after 17 days to a buyer from Colorado.
Condominiums
The luxury condo market has been fluctuating over the past several months and was a bit slower last month. In November, there were 7 luxury condo sales, up 250% over the 2 that sold in 2020 and up 16% from 2019. Median price saw a significant decrease last month. The median price was $1,900,000, down 25% from 2020 and 21% from 2019. Condos sold after 199 days on average, 141 days slower than in 2020 and 82 days slower than in 2019.
Highest Sold Condo
Anaha, Kaka'ako
3 bedrooms | 3.5 baths | 2,445 square feet living
Why this property is spectacular: Floor-to-ceiling windows offers stunning ocean views at this A stack unit in Anaha. It also features Miele appliances, 9 foot ceilings, quart countertops, and hardwood floors.
Sold at: $3,350,000 after 210 days to an RV salesperson and real estate investor from Washington.
Source: State Tax Office & Bureau of Conveyances
To discuss the market in your area or the value of your home, please call our office at (808) 593-9826 or email concierge@caronb.com