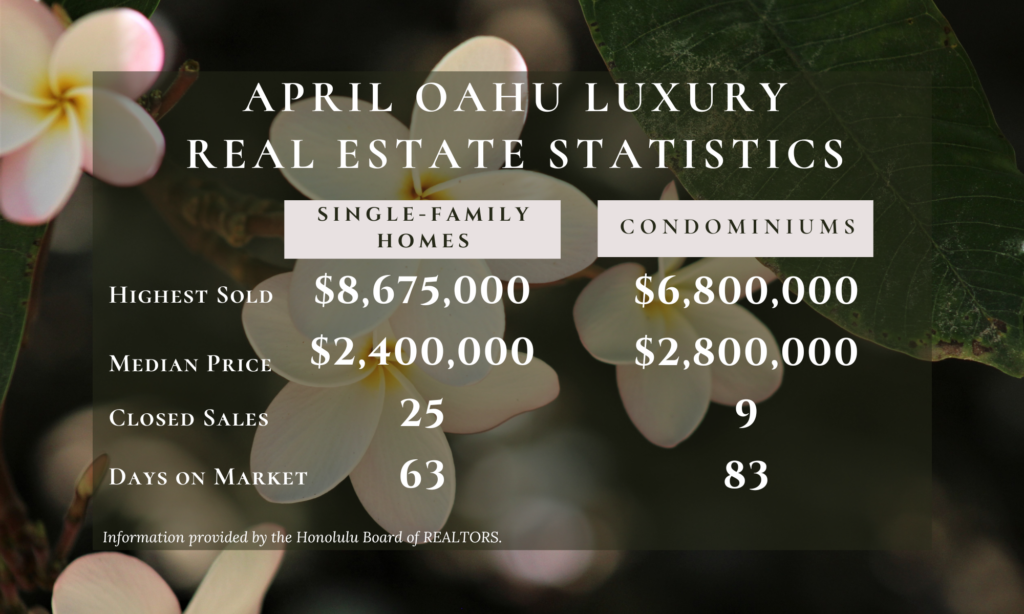 Due to the rapid changes in the market, we continue to share statistics that compare last month with the month previous instead of the same month in the previous year. The reduction in luxury home sales from March to April is not an indication of a quiet market but rather a shortage of inventory. There are some neighborhoods with over 2000 homes but with only one listing.
The number of condo sales did not change month to month. Interestingly, the percentage of both condos and homes that sold above at or above asking price increased about 10 percentage points from March to April. This could be an indication that pricing is leveling off and we will see more competitive offers moving forward.
Whether you are selling or buying, it's essential to work with an experienced, knowledgeable realtor who can guide you through the current market. Expert pricing and negotiation are key strengths of the realtors at Caron B Realty and have allowed us to bring record-breaking sales and multiple offers on our client's listings. To discuss the market in your area or the value of your home, please call our office at (808) 593-9826 or email concierge@caronb.com
Single-Family Homes
April 2023 vs. March 2023 for SFH $1.8M+
#sold: 25 vs 38 (down 34.2%)
Median price: $2,400,000 vs $2,375,000 (up 1%)
DOM: 63 vs 70 (7 days faster)
Listing/sold ratio: 97.5% vs 96.6%
% sold at or above asking: 44% at or above listing vs 34%
Price per sq ft: $973.22 vs $1,088.83 (down 10.6%)
Highest Sold Single-Family Home

Kaimalino, Kailua
5 bedrooms | 4 baths | 3,018 sq ft living | 15,419 sq ft land
Why this property is spectacular:  This spacious home sits oceanfront on Kailua Bay with beautiful ocean, mountain, and garden views.
 Sold at: $8,675,000 after 49 days on market to a lawyer from California.
Condominiums
April 2023 vs March 2023 for Condos $1.8M+
#sold: 9 vs 9 (no change)
Median price: $2,800,000 vs $2,430,000 (up 15.2%)
DOM:83 vs 87 (4 days faster)
Listing/sold ratio: 97.6% vs 96.9%
% sold at or above asking: 44% at or above listing vs 33%
Price per sq ft: $1,995.47 vs. $2,145.42 (down 6.9%)
Highest Sold Condo

Waiea, Kaka'ako
3 bedrooms | 3.5 baths | 2,664 sq ft living
Why this property is spectacular: Unobstructed oceanfront views from the iconic Diamond Head to the Ewa coast!  Enjoy resort like amenities and services or explore the neighborhood, Waiea's central location wedged between the Kakaako and Ala Moana districts and across from Ala Moana beach park offers convenience at its finest.
Sold at:  $6,800,000 after 81 days on market to an investor from Japan.
Source: State Tax Office & Bureau of Conveyances