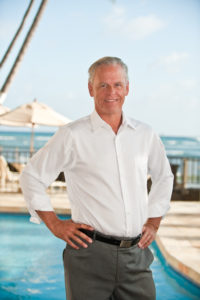 Doug T. Davis is the Broker-in-Charge of Caron B Realty. Doug has over 40 years of experience in the real estate industry and has a wealth of knowledge to share. Doug's experience covers the entire island of Oahu, from multi-family walk-ups in Moiiliili to luxury estates in Diamond Head, Black Point, and Kahala. He excels in solving potential problems and can guide you through any type of real estate transaction or property management issue.
As Lead Property Manager, Doug oversees our Property Management Department. Doug's expert understanding of Hawaii's ever-changing property laws is a strong asset, which his clients have come to rely on. When paired with his in-depth knowledge of Oahu history, zoning issues, land use codes, and financing, he becomes the most valuable asset in residential land transactions today.
Doug is assisted by Marjayleen Zaragoza, the Customer & Concierge Coordinator for the Property Management Department at Caron B Realty. Marjayleen works closely with Doug to advertise our available rentals and perform background checks on applicants. Marjayleen coordinates with necessary vendors to schedule maintenance and repairs of all properties. She helps to facilitate billing and payments for our property owners and tenants. In addition, Marjayleen helps to resolve any problems with the rental properties or issues that tenants or owners may encounter.
---
We understand that you are accustomed to the very best and our goal is to provide extraordinary client service. We remove stress from our clients' lives to make the often-complicated and challenging process of renting a home as easy as possible. We go beyond the normal boundaries of service to connect client to members-only organizations and vetted vendors to ease the process of renting your home. We assist with everything from pre-renting services to painting and utility setup. We go the extra mile to help every one of our clients have the most positive outcome. With Caron B Realty's Concierge Property Management Services you will find:
Significantly reduced vacancy periods
Target advertising to prospective renters
Strong relationships with maintenance contractors who offer preferred pricing on work done, thereby passing the savings on to you.
 Periodic interior/exterior inspections to ensure your property is properly maintained
 Due diligence performed on our renters' backgrounds to minimize your overall vacancy rate (criminal, credit, work/landlord history, references)
Online platform and accurate monthly activity statements, saving bookkeeping time and costs
Regarding to the COVID-19 pandemic, we are adhering to strict safety protocols; the health and well-being of our clients, agents, and potential renters is our top priority. Click here to see a detailed breakdown of the Property Management services we provide. We look forward to welcoming you to the Caron B Realty family. If we can be of service to you, feel free to call Doug at 808-596-4883 or email Doug.
If you would like to see our available rentals, please click here.
Click here to download our printable Home Maintenance Checklist!