Now Seeking Hawaii Real Estate Agents Who Want to Thrive in Business and Life!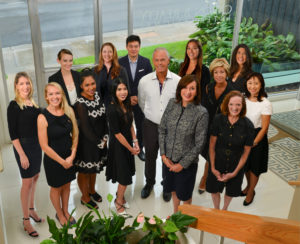 If you are a Hawaii real estate agent looking for a dramatic change in your life, you are in the right place.
Caron B Realty International has risen to the top of Hawaii's real estate industry by offering customers a unique blend of technology, innovative marketing systems and world-class customer service.
The company's founder, Caron B Davis, is a trusted advisor to her local and mainland clientele, and maintains an active network of real estate investors that span the globe.
Along with co-founder and partner, Doug Davis, they offer over 70 years of real estate and sales experience, exceptional market knowledge, and proven negotiation skills that break record after record in both local sales and volume.
As one of Hawaii's most successful realtors and entrepreneurial success trainers, Caron has obtained a multitude of prestigious awards and is a member of the Top 100 Realtors Hall of Fame.
And that's not all. As life coaches with over 30 years of experience, Caron and Doug have helped numerous agents identify their goals, prepare personal development plans and make them accountable to reach their ultimate vision for success. (See what people say about Caron B Realty International here.)
In fact, in the past year, they have:
Increased agent production by five times

Refined an agent's passion in the industry

Enabled a first-year agent to assist over 20 families

Helped an experienced agent go from an average price of $500K to $2 million… just to name a few successes.
At Caron B Realty International, you are not just an agent with a job. You become part of a proven process that improves your life and makes your dreams a reality.
This means combining all aspects in your life to work together for positive results, including: your career, finances, health, recreation, relationships with partners, family and friends, and more.
Through weekly, quarterly, and annual meetings, you create goals, make plans to achieve them, and are accountable for your actions. And this all happens in a fun and positive work environment!
With Caron and Doug's expertise and experience, they have created a thriving business with some of the most experienced sales professionals in Hawaii. Due to this growth, Caron B Realty International is now looking for experienced agents who want a unique opportunity to reach the next level of success in both business and life.
Not only will you work in a creative atmosphere with positive people, you'll learn new and exciting insights, business skills, and more from some of the most knowledgeable coaches in the industry… information you can use to catapult your earning potential.
However, we are not looking for your average agent.
Are you a high achiever with a network of connections?

Are you an experienced agent who wants more out of life and your business?
Do you…
Show accountability for your actions?
Want to work hard?
Exude a positive attitude as an individual and with team members?
Have a growth mindset?
Always try to do the right thing?
 As an agent at Caron B Realty International, you'll also:
Have an active, Hawaii real estate license and be fully accountable under our agent obligations to deliver all necessary requirements

Want to provide top-level services to clients in a fast-paced environment, use your bilingual talents, and learn new technology in the process

Take pride in your time management, organizational and people skills to complete personal goals

Enjoy a commission plan based on your experience, expertise, qualifications, and more
Are you a good fit for this unique opportunity and ready to thrive?
If so, we can help you bridge the gap of where you are now and where you want to be, in both your business and personal life.
Please contact us to start the process.
We want to hear from you!
Please forward your resume, along with a cover letter stating why you want to join us and how you can help benefit our team, to Julie Eggers at julie@caronb.com.
If you become a member of our team, you will receive personal mentoring and coaching from our seasoned brokers to help grow your business and change your life for the better.
Backed by our core values, we will stand behind you to achieve success in all aspects of your life.
We look forward to hearing from you soon, as we are choosing the best candidates immediately.
For more information, please click here, or call our office directly at (808) 593-9826 for additional information.