We are heartbroken to see the devastation and destruction of Lahaina, Maui, and we send our deepest condolences to the people who have lost their lives, their families, their homes, and their businesses. Lahaina was the capital of the Hawaiian Kingdom and holds important cultural significance.
If you're able, please consider donating to help the people and the community. Below are a variety of ways to help, including monetary donations, supply donations, stores to shop at, restaurants to eat at, and benefit concerts. Thank you for your care, help, and generosity.

Monetary Donations
Restaurants/Food Events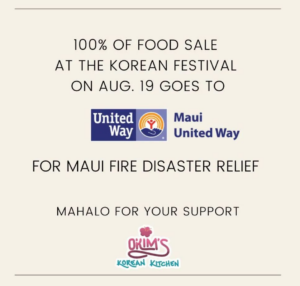 A number of restaurants and foodie events are donating, including:
O'Kim's at the Korean Festival on Saturday 8/19
Benefit Dinner at Mud Hen Water on Sunday 8/20
3-course dinner and chamber music concert at Stage Restaurant on Tuesday 8/22
Ai ♥ Maui – a fundraiser by the Japanese Cultural Center of Hawai'i and Bamboo Catering to benefit Maui United Way and Chef Hui's Maui Hospitality Relief Fund on 9/3
Click here for the complete list.
Photo courtesy of O'Kim's Honolulu via Instagram
Maui Ola brings together Hawaiʻi's musicians, production professionals, media community, and dozens of others who are

donating 100% of their efforts to aloha Maui,

using music as a vehicle to help the healing process, rallying much needed aid from across Hawai'i and around the world.On Oahu, it will be at the Great Lawn at the Bishop Museum on Sunday and features Hawaiian Style Band, Pure Heart, Jerry Santos, Anuhea, and more. On Hawaii Island, it will be at Park Ranch Shopping Center on Sunday. There will also be a live broadcast at 6pm on local TV stations so be sure to check the

full list here.

Kokua Maui Festival hosted by Hawaii Finest on Friday 8/18 and other events can be

found here.

Made in Hawaii Festival: 10% of ticket sales profits and 100% of Made in Hawaiʻi Festival t-shirt sales profits will go to Maui Strong Fund. August 18-20.

Get tickets here

.
Hawaii Designers and Boutiques All Donating 100% on Certain Products/Designs
Aloha Modern – 100% of Online proceeds
Brianne & Co – 100% of online proceeds
Slowtime – 100% of online proceeds
SoHa Living – 100% of sales from the Maui Strong Collection
Watanabe Floral – 100% of online proceeds
See the full list here.
Photo of the SoHa Living Maiu Strong Collection courtesy of SoHa Living

Drop Off Locations
On Oahu – Many businesses, shops, and organizations across the island are accepting donations. See a list here and another list of drop off locations, plus other ways to help here.
On Maui – Here is a list of drop off locations and here is a Google Doc with resources, verified funds and charities, coordination efforts, and other ways to help.