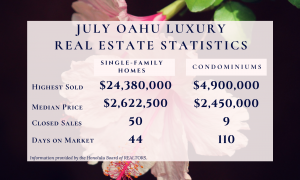 Single-Family Homes
The luxury home market remained strong in July. There were 50 home sales, well over the typical numbers we saw last year and pre-pandemic. The median price of $2,622,500 is the 2nd highest we've seen this year. Homes sold after only 44 days on market, about twice as fast as last year. The biggest difference this month was in the percentage of homes sold above asking price – nearly half of the homes sold in July were at or above asking price, compared to 12.5% in 2020 and 19% in 2019. Additionally, the average listing to sold ratio was 100%, compared to 93% in 2020 and about 96% in 2019.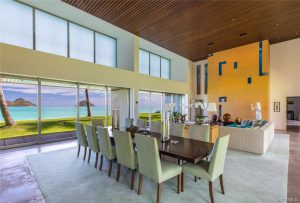 Highest Sold Single-Family Home
Lanikai, Kailua
9 bedrooms | 9.5 baths | 10,326 square feet living | 0.8 acres land
Why this property is spectacular: Designed by award-winning architect Jim Jennings, this beachfront estate offers 151 linear feet of ocean frontage and stunning views of the Mokulua Islands. The gourmet Kitchen has Gaggenau and Miele appliances and there are vanishing floor-to-ceiling sliding doors throughout. It is the highest sale recorded in Oahu's MLS.
Sold at: $24,380,000 after 91 days on market to a company in Bellevue, Washington.
Condominiums
After last month's surge in condo sales, July had 9 sales, on par with what we saw in the first few months of the year. This represented a 200% increase in number of sales compared to July 2020; median price increased by 22.5% over last year. As with single-family homes, there was a big difference in condos sold at or above listing price – 44% last month compared to none in July 2020 and 10% in 2019. Price per square foot increased significantly last July, up 42%.
Highest Sold Condo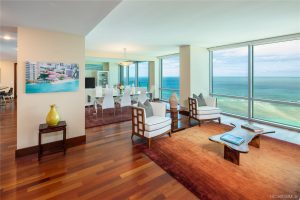 Hokua, Kakaa'ako
3 bedrooms | 3.5 baths | 3,309 square feet living
Why this property is spectacular: One of only 5 double unit at Hokua, this condo boats beautiful views from Magic Island to Ewa.
Sold at: Sold for $4,900,000 after 304 days on market to a company in Seattle.
Source: State Tax Office & Bureau of Conveyances
To discuss the market in your area or the value of your home, please call our office at (808) 593-9826 or email concierge@caronb.com