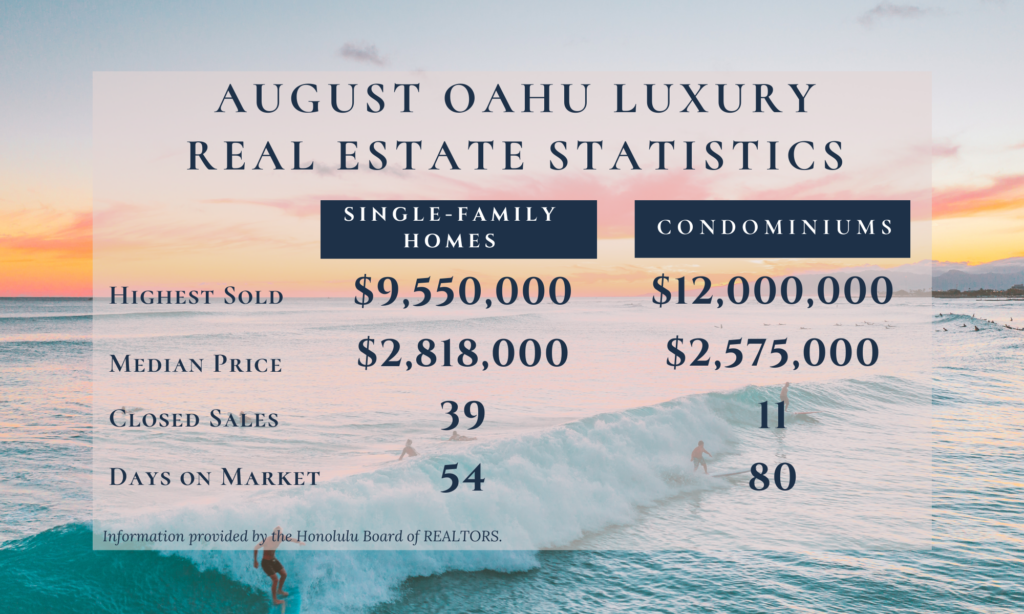 Luxury single-family home sales increased by 50% over last month to tie with June of this year for the higher number of homes sold since August 2022. Homes sold for the highest median price since May 2020; over 50% of them sold at or above list price.
Although there was a decrease in the number of luxury condo sales compared to July, 11 luxury condos sold is higher compared to recent months. There have been fewer than 10 sales each month, except July, since November 2022.
Whether you are selling or buying, it's essential to work with an experienced, knowledgeable realtor who can guide you through the current market. Expert pricing and negotiation are key strengths of the realtors at Caron B Realty and have allowed us to bring record-breaking sales and multiple offers on our client's listings. To discuss the market in your area or the value of your home, please call our office at (808) 593-9826 or email concierge@caronb.com
Single-Family Homes
SFH August 23 vs July 23 $1.8M+
#sold: 39 vs 26 (up 50%)
Median price: $2,818,000 vs $2,400,000 (up 17.4%)
DOM: 54 vs 45 (9 days slower)
Listing/sold ratio: 98% vs 99.2%
% sold at or above asking: 51% vs 42%
Price per sq ft: $1,141.11 vs $993.66 (up 14.8%)
Highest Sold Single-Family Home

Malaekahana, North Shore
7 bedrooms | 6.5 baths | 8,164 sq ft living | 36,634 ft land
Why this property is spectacular: Escape to paradise with a long, tranquil, white sand beach known as Puuhonua – "a place of refuge". Enjoy Balinese architecture, artifacts, and lush tropical landscaping. The residential wing  features the primary bedroom suite with an indoor/outdoor resort-style bathroom, three ensuite bedrooms on the main level, and a fourth bedroom/bath with a large flex space perfect for yoga or movies. This beach side of the property features a stunning pool, water features, and two outside-covered pavilions perfect for entertaining or just chilling.
Sold at: $9,550,000 after 112 days on market to investors from Utah.
Condominiums
Condos August 23 vs July 23 $1.8M+
#sold: 11 vs 16 (down 31.2%)
Median price: $2,575,000 vs $2,517,500 (up 2.2%)
DOM: 80 vs 74 (6 days slower)
Listing/sold ratio: 94.1% vs 95.9%
% sold at or above asking: 18% vs 25%
Price per sq ft: $1,774.89 vs. $1,830.87 (down 3%)
Highest Sold Condo

Park Lane, Ala Moana
4 bedrooms | 4.5 baths | 4,319 sq ft living
Why this property is spectacular: Rarely available, large unit at Park Lane. This was the only 4-bedroom unit on the market with interior square footage in excess of 4000 sqft, with a separate garage, extra parking stall, and storage room in the garage. Beautiful views from the lanai and luxury amenities in the building.
Sold at: $12,000,000 after 4 days on market to local investors.
Source: State Tax Office & Bureau of Conveyances