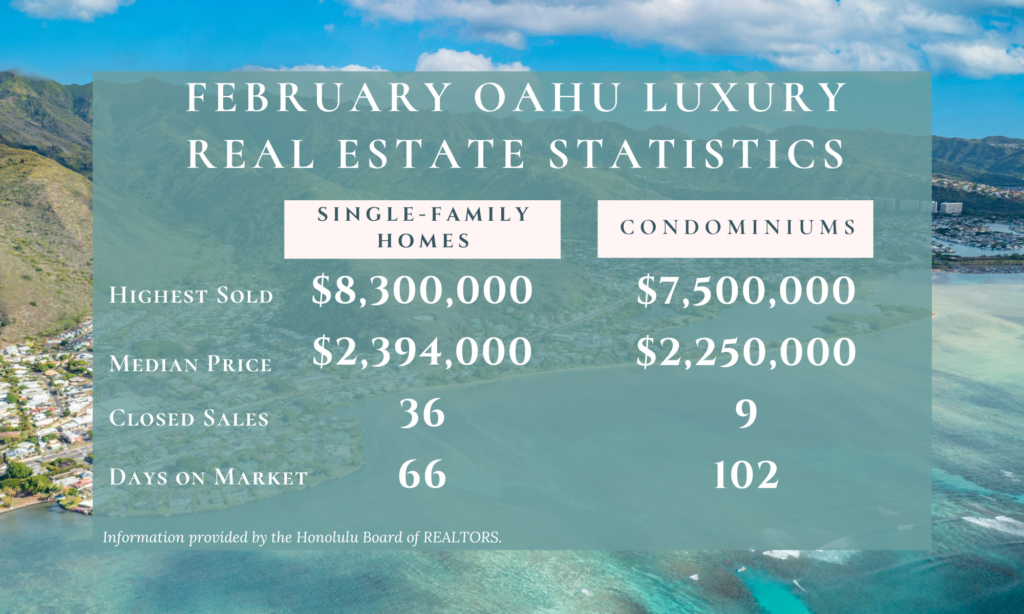 The real estate market is moving very quickly and comparing a month's numbers to that of the same month in the previous year is no longer relevant and doesn't give a clear picture of what is going on. Instead, these statistics compare February to January so you can see how the market has changed just this year so far.
Whether you are selling or buying, it's essential to work with an experienced, knowledgeable realtor who can guide you through the current market. Expert pricing and negotiation are key strengths of the realtors at Caron B Realty and have allowed us to bring record-breaking sales and multiple offers on our client's listings. To discuss the market in your area or the value of your home, please call our office at (808) 593-9826 or email
concierge@caronb.com
Single-Family Homes
In February, 36 homes sold at or above $1.8M, a notable increase from January of this year. The median price was $2,394,000; homes sold after an average of on 66 days on market and the price per square foot was $1,064.14. Homes sold for 95.9% of their asking price, on average, and 36% of them sold at or above asking price.
February 2023 vs. January 2023 for SFH $1.8M+
#sold: 36 vs 11 (up 227%)
Median price: $2,394,000 vs $2,300,000 (up 4%)
DOM: 66 vs 82 (16 days faster)
Listing/sold ratio: 95.9% vs 96.3%
% sold at or above asking: 36% at or above listing vs 36%
Price per sq ft: $1,064.14 vs $888.73 (up 19.7%)
Highest Sold Single-Family Home

Makiki Heights, Metro Oahu
7 bedrooms | 5 baths | 16,703 sq ft living | 3.43 acres land
Why this property is spectacular:  Perfectly situated in Makiki Heights, one of Honolulu's most distinguished neighborhoods known for its majestic trees & picturesque Diamond Head, Pacific Ocean, Honolulu city and dramatic mountain views, rests a legendary residence  known as The Spalding House. This property consists of a main dwelling with widespread open gallery spaces ideal for the avid collector, separate caretaker's quarters, multiple additional offices, swimming pool and a former café & tennis court.
 Sold at: $8,300,000 after 49 days on market to a local non-profit.
Condominiums
There were 9 luxury condo sales in January; they sold for a median price was $2,250,000. There weren't any ultra luxury sales in February, which contributes to the decrease in median price. On average, condos received 97.6% of their asking price and sold after 102 days on market. The average price per square foot for luxury condos was $2,300.77.
February 2023 vs January 2023 for Condos $1.8M+
#sold: 9 vs 7 (up 28.5%)
Median price: $2,250,000 vs $3,575,000 (down 37%)
DOM:102 vs 51 (51 days slower)
Listing/sold ratio: 97.6% vs 99%
% sold at or above asking: 67% at or above listing vs 71%
Price per sq ft: $2,300.77 vs. $2,122.49 (up 8.4%)
Highest Sold Condo

Park Lane, Ala Moana
3 bedrooms | 2.5 baths | 1,974 sq ft living
Why this property is spectacular: The opportunity is finally here to purchase this rarely available 2 bedroom east facing Ocean Residence in Park Lane! Located in a desirable Building 3, conveniently close to the unparalleled resort-style amenities and same level as the lobby. This residence offers a beautiful panoramic views of the Pacific Ocean and Ala Moana Beach Park. Park Lane is conveniently located in the heart of Honolulu and offers the finest of Hawaii living. The concept of Park Lane was curated and executed by local developers who understand the needs of residents who seek Hawaii luxury living.
Sold at: $7,500,000 after 23 days on market to an investor from Micronesia.
Source: State Tax Office & Bureau of Conveyances